Uber reports rapid growth in Freight unit
Credits: FreightWaves
Source: lloydsloadinglist.com
In a first earnings report since its IPO (initial public offering), ride-sharing technology pioneer Uber Technologies has reported spectacular growth in its Freight unit, launched in 2017, which matches trucking companies with loads to haul on the US market.
CEO Dara Khosrowshahi noted that along with Uber Eats, Uber Freight had been the group's "best segment", with gross bookings growing 230%, year on year, in the first-quarter (Q1) of 2019, to $132 million.
"More and more large, global enterprise shippers are beginning to benefit from Uber Freight's vast carrier network transparency, real-time pricing and more, with many notable new customers joining Q1 such as CVS, Cisco, Pepco and Heineken," he said. Other major names in Uber Freight client portfolio include brewery giant Anheuser-Busch InBev and consumer products group Colgate-Palmolive.
"To better support our enterprise shippers and further integrate into their supply chains, we have announced a strategic partnership with SAP providing customers seamless access to that Uber Freight network, enabling real-time booking and on-demand freight capacity 24x7," Khosrowshahi added.
Credits: Heavy Vehicles
Announced last month, SAP said the integration of Uber Freight into the SAP Logistics Business Network would "let customers access transport rates from Uber's digitally activated carrier network and gain real-time quotes and guaranteed freight capacity, greatly simplifying load management and execution".
Uber's Q1 earnings statement revealed that the group's "logistics on-demand team (Uber Freight) has contracted with over 36,000 carriers, with more than 400,000 drivers and has served over 1,000 shippers.
Group CFO Nelson Chai commented: "We continue to build out our routes. We are not big enough yet but we are seeing very, very good traction. One of the real win points for us is that freight is a very manual business and we are able to automate it."
Khosrowshahi said that last year the market had been in an "undersupply position", adding: "This year there are more trucks out there, so pricing has come down.
"So, the real focus is bringing in demand and signing up the enterprise shippers. You are going to see our sales team out there; they are knocking on doors and fortunately the doors are opening at this point. They are bringing in a lot of names."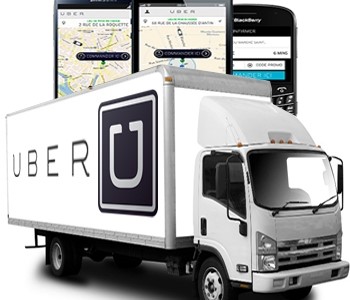 Credits: land-link.com
In March, Uber Freight, announced the expansion of its operations into Europe, launching in the Netherlands from where it planned to expand access in other parts of Europe, although no one was immediately available to comment on its roll-out.
Overall, Uber Technologies lost just over $1 billion in Q1 on revenue of $3.10 billion.
© 2019 Worldfreightrates News