Seattle, Tacoma set international container record
Image by portoftacoma.com
Source: americanshipper.com
The Northwest Seaport Alliance (NWSA), which encompasses the seaports of Seattle and Tacoma, said while its international container volumes in the first six months of this year set a new record, international volumes in June were smaller than in 2018.
NWSA terminals handled international container traffic totaling 271,956 TEUs in June, down 5.5 % from June 2018. That decline partially was offset by a 12.1% increase in cargo moving to and from Hawaii and Alaska so that the port's total container traffic in June was 343,221 TEUs, down just 2.3%. The port said Alaska volumes in June were up 16.4%, "supported by strong Alaska North Slope oil and gas activity."
The port handled 1,559,903 TEUs of international containers in the first six months of 2019, a 7.6% increase from the first half of 2018. That bested a record set in the first six months of 2005 of 1,532,987 TEUs. (The reason that 2005 volumes were so high is large volumes of cargo were diverted from Southern California because of extreme congestion. The NWSA was only formed in 2015, so the port combined Port of Seattle and Port of Tacoma cargo volumes to create a basis for comparison.)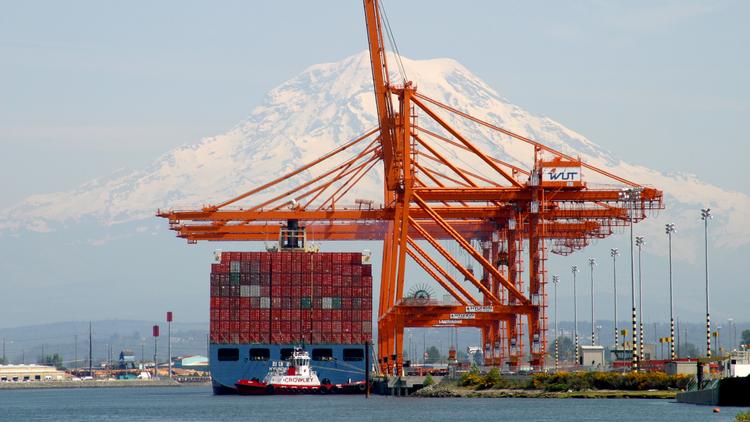 Credits The Business Journals
And total volumes at the port, including both international and domestic container traffic, was also up 7.6% in the first half of 2019 to 1,915,249 TEUs.
The NWSA announced the launch of a Gate Efficiency Program in June to help fund additional gate hours at its international container terminals through December 2020. The incentive-based program began July 1 with participation from Terminal 18 in Seattle and Pierce County Terminal in Tacoma.
Last week the managing members of the NWSA, along with officials from SSA Terminals and the International Longshore and Warehouse Union, broke ground in Seattle on a $500 million renovation of Terminal 5, which is being modernized so that it can handle larger ships carrying up to 18,000 TEUs.
SSA will operate the 185-acre terminal, expected to open in two phases, with one major berth ready to handle international container cargo in the spring of 2021 and a second berth ready in 2023. NWSA will contribute $340 million to the cost of the project and SSA up to $160 million.
Image by caprock-partners.com
Other cargo types also increased in the first six months of 2019 when compared to the first half of 2018. Breakbulk cargo volumes were up 17.1% to 141,266 metric tons and auto volumes were up 18.8% to 80,674 units.
© 2019 Worldfreightrates News