Electric barge delivers shipments to heart of Paris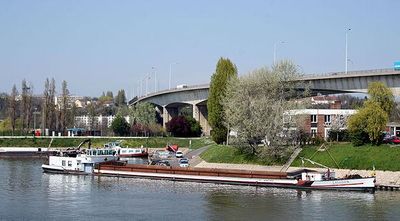 Image by routeyou.com
Source: lloydsloadinglist.com
French sustainable freight transport specialist Fludis has launched a new, eco-friendly barge service on the Seine to deliver up to 3,000 parcels daily to B2B and B2C customers located in the centre of Paris, while contributing to the reduction of traffic congestion and CO2 emissions.
An electric-powered vessel operates from the Gennevilliers river port, beginning its 'milk run' at 5.30am and taking in four stops in order to serve several districts or 'arrondissements' at the heart of the French capital.
At each port of call on the riverside quays, a team of 15 delivery staff aboard the barge load parcels on to cargo bikes – each with a capacity of up to 250 kilos and part-electricity powered – before coming ashore to carry out the 'last-mile' leg in the logistics process. On completing their delivery rounds they meet up with the barge at its next stop on the banks of the Seine.
Image by rfi.fr
"They (delivery staff) cover 20 kilometres maximum daily and each member of the team delivers between 500 and 600 kilos of parcels, as many as is possible by vans," commented Fludis' founder, Gilles Manuelle.
Launch customers include Swedish furniture and home furnishings retail giant IKEA; Lyreco, a distributor of office supplies and workplace products; and recycling specialist, Paprec, which collects items such as used batteries and light bulbs.
IKEA opened a warehouse at the Gennevilliers port in February this year in order to stremline its supply chain to the central Paris market.
Image by wikimedia.org
In addition to its 'green power' credentials, the Fludis service is also a timely response to the congestion afflicting the road traffic network in major cities such as Paris and the obstacle this poses to urban logistics providers. "Today, delivery firms lose one hour in the morning to traffic jams getting into the city centre and one hour in the evening getting out," Manuelle underlined.
Fludis estimates that the operation of one of its vessels represents 300,000 fewer kilometres clocked up by light commercial vehicles on an annual basis, 12,500 hours of congestion avoided, and a reduction of 110 tonnes of CO2.
© 2019 Worldfreightrates News